The club's purpose is "to promote friendly relations between persons interested in photography and kindred subjects and for the advancement of knowledge in the science and art of photography."
Portland Camera Club Charter, 1899
Founded on May 24, 1899, the Portland Camera Club is one of the oldest camera clubs in the United States. The club welcomes anyone interested in photography, whatever their level of experience. Our programs include education through classes, workshops and guest speakers.
The Portland Camera Club is a registered 501(c)(7) organization.
Meetings
Meetings are held every Monday from September through May (excluding Labor Day and the last two Mondays in December). Meetings starts at 7 PM.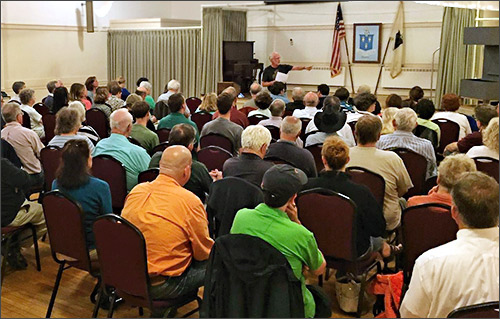 We meet at the Woodfords Club, 179 Woodford Street, Portland (click here for Google Maps). Ample parking is available.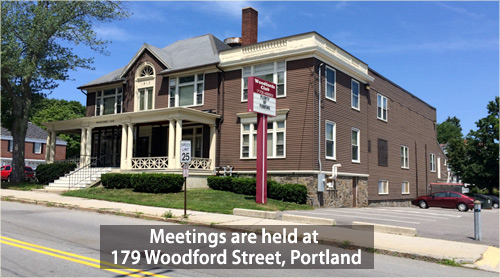 Handicap access: The main entrance of the Woodfords Club building includes a ramp with handicap access. The ramp and a number of handicap-only parking spaces are on the west side of the building, in between the Woodfords Club and the Jones-Rich-Hutchins Funeral Home. Inside the Woodfords Club building, the main floor (including restrooms) is ADA-compliant.
Winter cancellations: The club makes every effort to contact its members in the event that a meeting must be canceled. The announcement will be communicated via e-mail, a "telephone tree," and local television stations.


Membership
Regular Membership dues are $50 per year.

High School students presenting a valid Student ID may participate in all club activities for free.

Undergraduate college students presenting a valid Student ID may participate in all club activities for $25 per year.

Family Memberships: First family member pays $50; each additional family member pays $25.
Visitors are always welcome. Anyone may participate, at no charge, in meetings during September and October. To continue participation in club activities, individuals must pay their annual dues by the end of the first meeting in November.
Dues payments may be made with a check or money order, made payable to "Portland Camera Club." Give your check to the club treasurer, Steven Thing. Or you may pay via our Paypal page (click here for the Paypal Payments page). If you choose to mail in your check, mail it to:
Portland Camera Club
P.O. Box 2526
South Portland, ME 04116.


Executive Board
Members of the club's Executive Board are elected to their position. Elections are held during the club's Annual Business Meeting, which is usually held in early May.
2019-2020 Executive Board

Club Officers:
President: Ella Hudson
Vice President: Samm Marquis
Secretary: Mary Powers
Treasurer: Steven Thing
Executive Committee:
Bill Shumaker (most recent past president)
Enigmah Archer Hirsch
Francesca Gallucio-Steele
George Vercelli
Mike Czosnek
Mike Leonard
Paul VanDerWerf

Members' Websites

Meet Ups and Field Trips
What's better than being a member of a fun club focused on our passion of photography? Going out into the world and enjoying photography with our like-minded friends!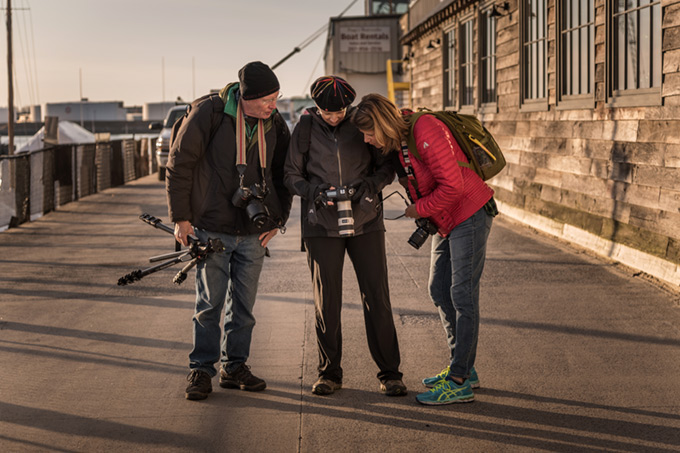 The Portland Camera Club makes an effort to frequently schedule meet ups and field trips. These gatherings offer opportunities to make new friends, learn new tricks, and create great images. These gatherings are posted on the club's calendar and on the club's Facebook page.
All club members are invited to "host." A host simply schedules, organizes, and serves as the point person for the event.
Identify a place or event to photograph. For example, the Portland Waterfront.
Select a date and appropriate start time.
Suggest camera gear attendees should bring if possible. For example, a tripod, zoom lens.
Set benchmark times to keep the group together. For example, Sunrise at the Pier, 7am at the ferry terminal, 8am at the coffee house
Click here to enter the above information, then submit your idea. The info you enter will go to the Meet Up Committee.
We get better at our craft through practice, and there's no better way to practice than to do it with friends! We hope you join us at our next shoot!
Elizabeth Benz, Chairperson, Meet Up Committee


Using Paypal To Send a Payment to the Portland Camera Club
You can make an online payment to the Portland Camera Club for any reason, including membership dues, admission to special events, etc. Click here for the Portland Camera Club's Paypal page.


Yahoo Group Online Forum
The club's Yahoo Group is an easy way to stay in touch with other club members. Anyone can post a message to the forum and it will be sent automatically to all members that have joined the group. Topics for posting to the forum include meeting changes or weather cancellations, a member looking for help with a photography question, or any club event.
To visit the PCC_Contact group on Yahoo, click here. Note: using the PCC_Contact Yahoo group requires a Yahoo account (a Yahoo username and password). A Yahoo account is free. If you don't have a Yahoo account, click on the Create an Account link. See also this link to the Join A Group help page: help.yahoo.com/kb/SLN2409.html.
In addition to the message forum, the club's Yahoo group also has a repository of tutorials, files and helpful videos about photography. Go to the PCC_Contact Yahoo group and click on "Files" in the menu bar at the top of the Yahoo group. Or if you have already signed into the Yahoo group, use this direct link to go to the Files page: https://groups.yahoo.com/neo/groups/PCC_Contact/files


Contact
General Questions: Mike Leonard click here for email.
Website Comments: John Bald click here for email.
Mailing address:
Portland Camera Club
P.O. Box 2526
South Portland, ME 04116


Club By-laws
Click here for the current Portland Camera Club Bylaws (PDF format).


The Libby Prints
Click here for the Libby Prints page, including a historical essay on Francis Orville Libby.