The club's purpose is "to promote friendly relations between persons interested in photography and kindred subjects and for the advancement of knowledge in the science and art of photography."
Portland Camera Club Charter, 1899
Founded on May 24, 1899, the Portland Camera Club is one of the oldest camera clubs in the United States. The club welcomes anyone interested in photography, whatever their level of experience. Our programs include education through classes, workshops and guest speakers.
The Portland Camera Club is a registered 501(c)(7) organization.
Meetings
Meetings are held every Monday from September through May (excluding Labor Day and the last two Mondays in December). Meetings starts at 7 PM. Currently, the club is meeting by Zoom for all Mondays except the last Monday of the month, when we meet in person.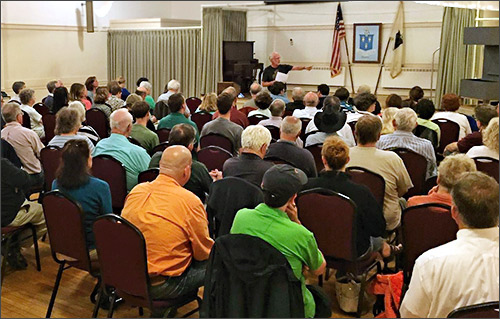 We meet at the Woodfords Club, 179 Woodford Street, Portland (click here for Google Maps). Ample parking is available. In-person meetings are currently held on the last Monday of the month only; all other meetings are held by Zoom.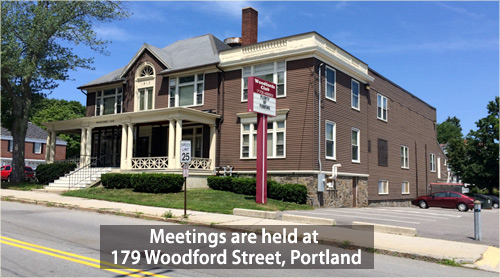 Handicap access: The main entrance of the Woodfords Club building includes a ramp with handicap access. The ramp and a number of handicap-only parking spaces are on the west side of the building, in between the Woodfords Club and the Jones-Rich-Hutchins Funeral Home. Inside the Woodfords Club building, the main floor (including restrooms) is ADA-compliant.
Winter cancellations: The club makes every effort to contact its members in the event that a meeting must be canceled. The announcement will be communicated via e-mail, a "telephone tree," and local television stations.


Executive Board and Committees
Members of the club's Executive Board are elected to their position. Elections are held during the club's Annual Business Meeting, which is usually held in early May.
2022-2023 Executive Board

Club Officers:
President: Dick Sawyer
Vice President: Pam Davis
Secretary: Steve Painter
Treasurer: Jack Sharkey
Executive Committee:
Peter Flanagan (most recent past president)
Colleen Graves
Dave Therrien
Mike Leonard
Mandy Saunders
Mary Powers
John Bald
Committees
In addition to the club's Executive Board and Executive Committee, there are committees with special tasks, such as the Program Committee and Membership Committee. To view a list of all PCC committees and their members, click here for the PDF.

Members' Websites

Using Paypal To Send a Payment to the Portland Camera Club
Note: If you want to pay for your club membership, please go to the Join/Renew page.

Member Communications (FB, Google Groups)

Private Facebook Group
In addition to the club's public Facebook page, the PCC maintains a private Facebook group. Membership in the private group must be approved. Those wanting to join are asked three questions. The group is kept private to prevent spamming. To visit the private group, go to Facebook and search for "Portland Camera Club Active Membership" or click this link: https://www.facebook.com/groups/PCCActiveMembership/.
Google Groups
The club maintains two Google Groups:
A group for current members of the Portland Camera Club. Members are automatically added to the group when they join the PCC. To visit the PCC Members group, click here. To post a message to this group (current PCC members), write your post in an email and send it to: PCC_mbr@googlegroups.com

A general-public group for anyone interested in the Portland Camera Club. Everyone is welcome. To join this group, click here and click the link that says "Subscribe to this group." Next, enter your email address. If you've already joined the group, click here. People who want to post a message to this general-public group should write the post in an email message and send it to: PCC_pub@googlegroups.com

Contact
General Questions: Mike Leonard click here for email.
Website Comments: John Bald click here for email.
Mailing address:
Portland Camera Club
P.O. Box 2526
South Portland, ME 04116


Club By-laws
Click here for the current Portland Camera Club Bylaws (PDF format).


The Libby Prints
Click here for the Libby Prints page, including a historical essay on Francis Orville Libby.


Meet Ups and Field Trips
Click here for the Meet Ups and Field Trips page.