Greater Portland/Archangel Exhibit
In celebration of the 30-year anniversary of their Sister City relationship, Greater Portland, Maine, and Archangel, Russia, will exchange images for an exhibition of 60 photographs (30 from Maine and 30 from Archangel). The exhibit, Bridges of Friendship, was first on display at the Stonewall Gallery in Yarmouth from November 2018 through January 2019. The exhibit is moving to subsequent locations.
Current Exhibit Details
Current Location: Thomas Memorial Library
6 Scott Dyer Road (Google map)
Cape Elizabeth, Maine
Opening Reception: Thursday, August 29th, 6pm to 8pm.
Exhibit runs until September 30th.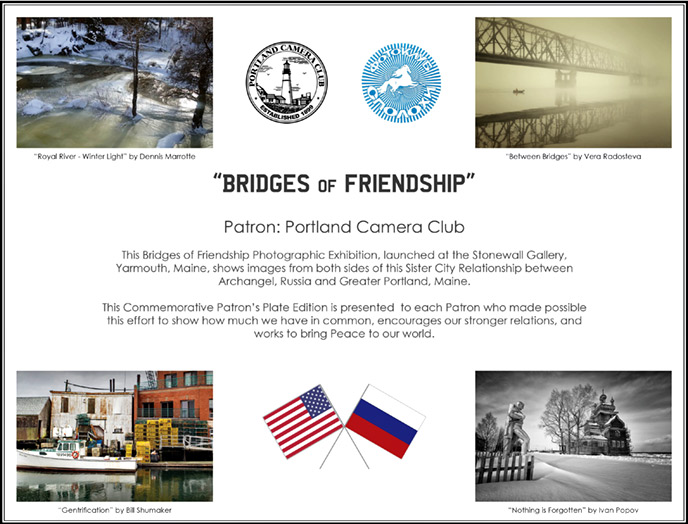 Online Galleries
Online gallery of 30 images from SPOLOKHI club, Archangel, Russia. | Online gallery of 30 images from the Portland Camera Club, Portland, Maine, USA.
Patronage Form
Patronage/Support Form (PDF)
Image Selection
Portland Camera Club members are invited to enter images for consideration (up to 5 images per member). Update: the deadline for image consideration has passed (May 21).
"The Women Photographers of Photo Club SPOLOKHI"
Dennis Marrotte has provided this historical document, an essay written by the late Tamara Ishenina who was the first Vice President of Photo Club SPOLOKHI. She wrote the essay in 1990, one year before the Soviet Union collapsed. The photo below, taken in September 1990, shows Tamara Ishenina on the far left. Our own Dennis Marrotte is in the middle, holding a jacket.
Click here to read "The Women Photographers of Photo Club SPOLOKHI" (PDF).
Exhibit Details
Click here for the initial write-up describing the project.
Contact Information
This project is under the direction of the Spolokhi Exhibit/Exchange Committee:
Dennis Marrotte, Archangel Committee & Portland Camera Club
dennis.marrotte1111@gmail.com
Dan Glover, Archangel Committee
dglover@maine.rr.com